With Ning 3.0, you'll now have the option to pull in aggregated content, similar to an RSS feed, to a dedicated page. By creating a Social Channel page, you'll be able to add your favorite Vimeo and YouTube channels (up to 3 channels from each service) to your network.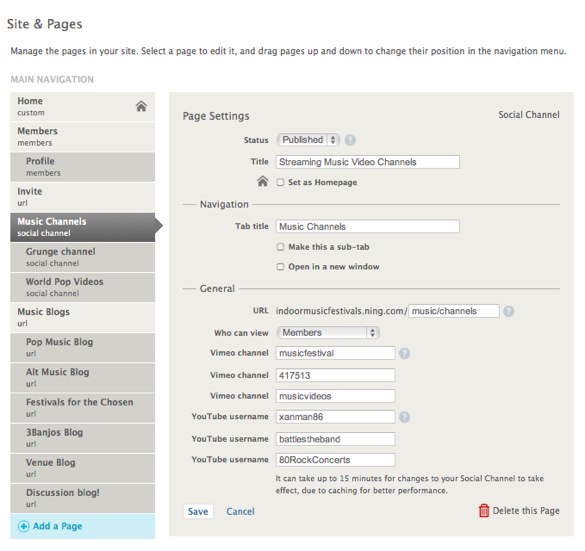 To set up a Social Stream, head to the Social Site Builder section of your Dashboard and click the "Add a Page" link, either under the Main Navigation or Unlinked Pages headings.  Depending which "Add a Page" link you click, your new page will be created under the corresponding heading.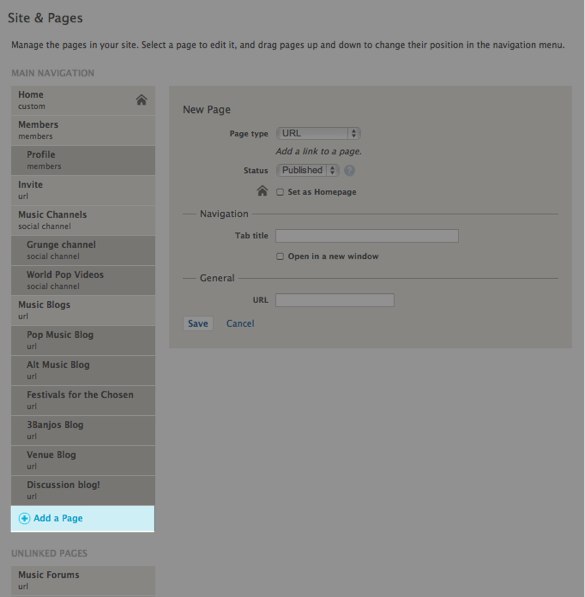 Set the "Page Type" as "Social Channel." After entering a page title, tab title, URL, and choosing your page visibility options, simply enter the username(s) of the Vimeo or YouTube channels you want to pull into this page and save your changes.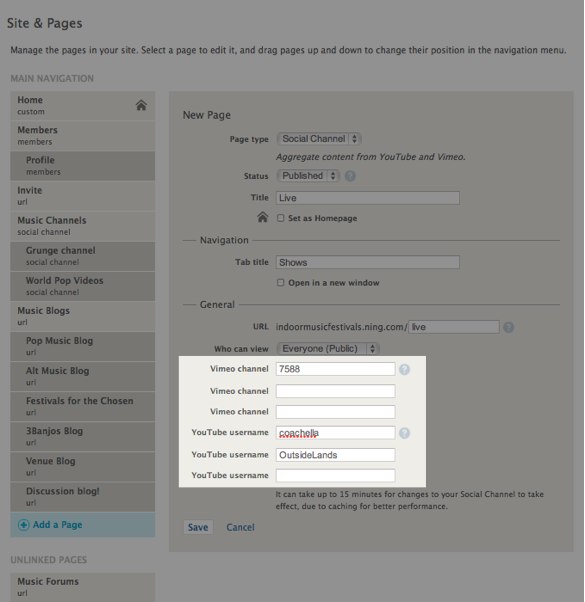 Once your page is published, it will be visible to everyone, members, featured members, or administrators, depending on your settings.
Don't worry if content from your Vimeo or Youtube channels doesn't appear right away, as it can take up to 15 minutes for changes to your Social Channel to take effect.
Your Social Channel page will display the most recent videos in the channels you add to the page.   Up to 24 videos will display here.
Customize your Social Channel Page
One way to customize your Social Channel Page is by creating unique page layout. You can select from four layout options: one column, two column (with a left or right sidebar), or three columns. The two column layouts allow you to change the Sidebar size to easily increase its width.
Add content to your Social Channel Instance using the "Add Content Button." Ning 3.0 provides the flexibility to incorporate other features or HTML boxes to really make your Social Channel page stand out.
Also, use the Below Header or Above Footer HTML Boxes for text, JavaScript or HTML code. To include the default code already running on other pages of your network, check the box next to "Use default below header HTML" or "Use default above footer HTML." Leave these boxes unchecked if you'd like to apply specific code or text only to this page.
Similar Articles: