Create a gaming website and build a community of fellow gamers
Virtual world becomes more "real" with every passing year. Technologies are evolving with unprecedented pace taking game development industry to entirely new heights. Realistic graphics, memorable characters acting like real living beings, huge open worlds waiting to be explored - things one couldn't imagine just about 20 years ago are now considered standard. No wonder video games are becoming an inseparable part of many people's lives worldwide. Gaming is now more than just entertainment.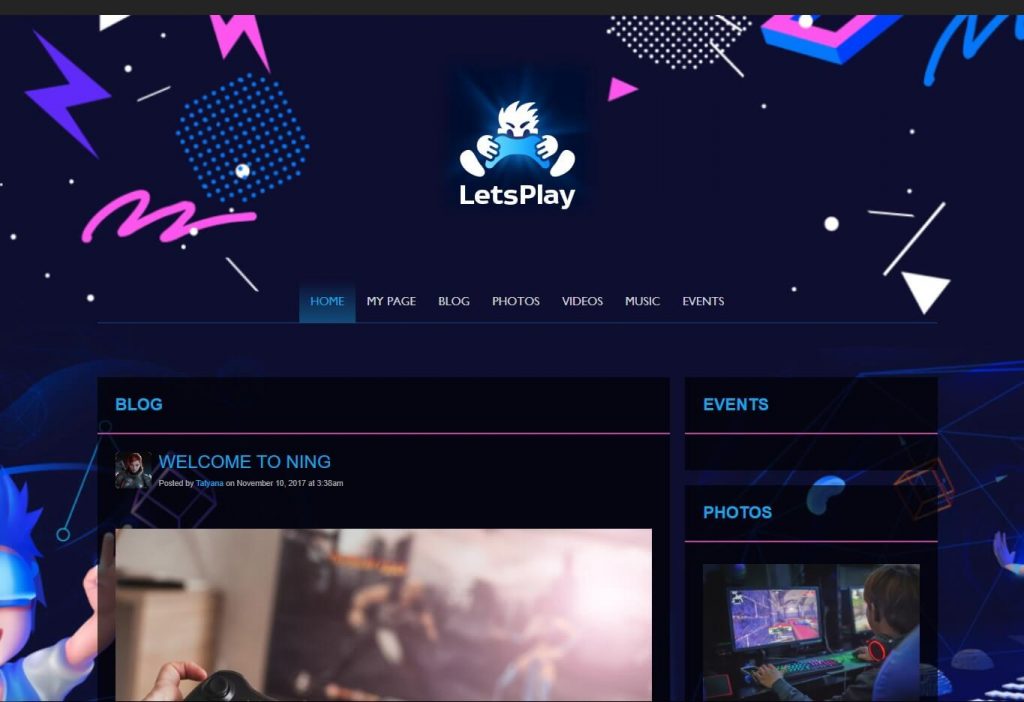 If you reckon yourself among avid gamers and want to share your passion with people around the globe, take your hobby to a whole new level and create a gaming website.
How to create a gaming website easily
Do you have to be tech-savvy to make your own gaming website? Not at all. Programming and coding skills are simply not required when you have a solid gaming website builder at your disposal. Ning is a simple and affordable solution when it comes to creating websites for both players and game developers. With its help, you can embody any project you have in mind:
Create a game website

If you're wondering how to make a game website that will help you raise awareness about your own game, consider Ning for your site building needs. It takes unbelievably little time and effort to design a game website thanks to a multitude of easy-to-use tools offered by the platform. To make your own game website, it is enough to set up a domain name, choose a design theme, and fill the site with interesting content. With Ning, you don't have to spend a lot of time to make a game website, so you can focus on improving the game itself. You can build the best website to download games of your own production and even monetize it when the right time comes.

Create a clan website

Do you prefer to play online video games together with friends? Enhance your experience and unite fellow gamers around your favourite game - create a guild website or clan website where you can actively communicate with your friends and share interesting content. Create a cybersport website For those who consider gaming more than just a hobby, making a cybersport league website is a great way to keep in touch with the team, discuss strategies, and take care of promotion.

Create a website for flash games

Flash games might seem simplistic for seasoned gamers, but they are really popular among children and people who prefer not to commit to larger, more complex games. Making a website to cater for this audience can be quite profitable.

Create a gaming community website

Make a web page dedicated to one specific game or gaming in general. This will allow you to share thoughts and opinions on the games you have played, get involved in the world of gaming, and discuss any related topics with visitors to your site. You are also free to post any content you consider useful for your online community, including game reviews, guides, tips, cheats, and recent news from the industry.
What makes Ning perfect for making gaming websites
Ning offers an impressive array of features that will let your gaming website truly stand out. Thanks to the amazing functionality of the platform, you can achieve remarkable results even if you have absolutely no experience in website development.
Free domain name and hosting
There's no need for any additional expenditures. Just choose a suitable subscription plan and proceed to build your site. The platform supports custom domain names as well.
Simple interface
To create your own gaming website you don't have to write a single line of code. Just add the features and functions you would like to use and construct your site utilizing the tools readily accessible from the dashboard.
Customizable design
You are free to decide how your gaming website will look like. Select one of the gaming community website templates, choose a background image, modify page layouts, insert your logo, etc. Ning offers many ways to make sure your site is unique, visually appealing, and easy to navigate through.
Having plenty of customization options at hand, you can create a website dedicated to a specific game and make sure its design perfectly reflects the theme you've chosen. For more advanced users, Ning offers a possibility of employing custom JavaScript, CSS, and HTML pages.
Advanced networking
It's not just a website you can create on Ning, rather a thriving online community. This is achieved due to the abundance of networking features offered by the platform.
There is a chat and personal messaging available, so you can easily communicate with other gamers at any time.
Forums will let you start discussions, talk about games, collectively find solutions to technical issues, share gameplay tips, etc.
By starting polls, you can get feedback from your network members and ask them for opinions.
You can also create events - both online and real-life - to bolster your community and create more engagement.
Thanks to an email broadcasting facility and aggregated activity feed, you can always keep your audience informed about your recent posts, events, etc.
Websites built on the Ning platform can fully integrate with popular social media including Facebook, Instagram, Twitter, LinkedIn and others. This means you can share your posts on social networks and use features like member sign-in via social media accounts and liking.
Ning enables you to grow a following of any scale. Due to the advanced community management system, you can create any number of member groups, customize member profiles, classify members into categories, and assign various statuses to them. To promote engagement in your community through gamification, make use of Ning's advanced Member Ranking System, introduce Leaderboards and Achievements module.
Top-grade blogging feature
There's nothing easier than setting up a gaming blog on your Ning website. Post anything you like - game reviews, guides, tutorials, tips, news - and share your content with others. Thanks to the networking features mentioned before, your blog posts can reach more people.
An embedded SEO tool allows you to write meta tags for any page of your website, so your gaming-related content will be easier to find on search engines.
Photo, video and audio sharing
Enrich your website by uploading images, video and audio content. You can easily share in-game screenshots, gameplay videos and walkthroughs, podcasts, music and more. Seamless YouTube and Vimeo integration makes game streaming possible on your website.
Varied monetization options
When your audience grows and your content becomes popular, you'll want to monetize your website. With Ning, you can set up paid membership on your site, create paywalls, and collect donations - all you need to make your hobby profitable!
Great mobile experience
No matter whether your gaming website is accessed from a PC, tablet or smartphone, it will look amazing on any device.
Create a website to play games and share your excitement with the world
There is much more to gaming than it might seem. For some, it is just entertainment; for others, it's a hobby, lifestyle, or even sport! If playing video games is what you truly enjoy, why not pass your excitement on to others?
Create your gaming website on Ning and get in charge of a huge gaming community where you can set your own rules and socialize with people who enjoy games as much as you. Get your 14-day free trial and launch into action!