Create a photography website and make another step in your career
Today, there are so many ways to show off your photos online: Instagram, Imgur, Flickr, 500px, etc. But for a professional photographer, they are merely complementary tools. The real online presence of any artist - a photographer in particular - starts with a personal photography website.
Being a creative personality, you know how important it is to convey the whole idea of your art. Rules and limitations prevailing on public photo sharing services are annoying and can hardly help you establish your authority or reveal talents to the full extent. Owning your own site, on the other hand, makes things easier as you are free to set your own rules and present your works the way you find most appropriate.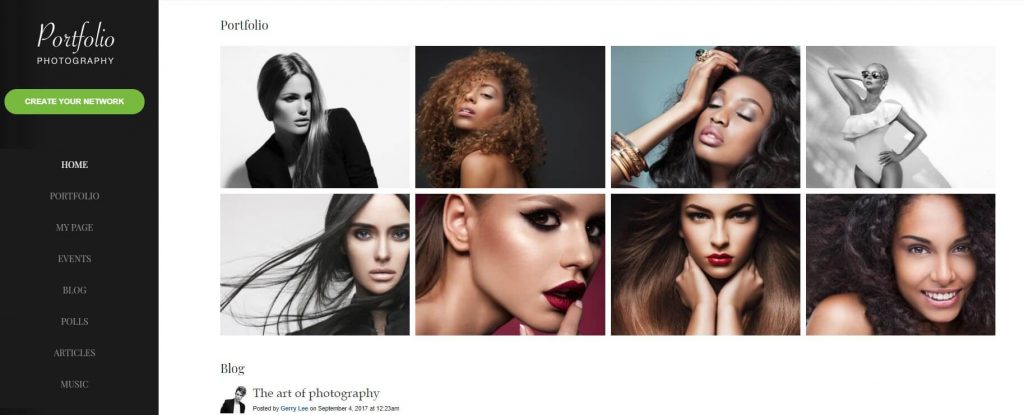 Moreover, building your own photography website can enhance your overall online visibility and provide more ways to promote yourself as an artist and professional, besides showcasing your photos. So let's try to figure out why it is so important to create a photo website for a photographer who seeks wider public exposure.
Why create a photographer website?
Whether a seasoned professional or amateur with far-reaching plans, a photographer who wants to make a name in the modern world is simply obliged to create a photography portfolio to withstand the competition. Indeed, there's nothing more compelling than an aptly made website presenting original photos organized in an orderly fashion and supplied with spot-on descriptions.
But what are the benefits of owning a photography website as opposed to posting photos on social media or photo sharing platforms?
Reflection of your identity. When you create a photo website from scratch, you give your art a personalized reflection of yourself. In other words, you can design a website that would truly match your personality, reveal your values and aesthetic preferences.
More than just photos. No doubt, photos are the focus of your attention when you create a photo portfolio. But if you manage to give your photos a proper framing, put them in context or endow with an original interpretation, they will become much more than just pictures. The images with an idea behind them have more value. With a personal website, it is much easier to present your photos in a more engaging and conceptual way.
Boost to your reputation. For most people who would consider hiring you, it's not only about the quality of your photos. Your potential employers will try to figure out who you are and whether you're trustworthy and dedicated enough to take up the job. Thus, your reputation comes to the forefront. A photographer with a personal website is automatically given more credibility - and rightfully so. A person who invested time and effort in creating something as complex and meaningful as a portfolio website deserves more credit than somebody who took the easier way and just uploaded photos on Facebook or Instagram.
Better visibility on the web. Visual and textual content make a perfect combination both for the human eye and search engines. Unfortunately, search engines have a hard time appreciating the greatness of your shots, but they are rather skillful at reading. That's why it is so important to spice your photos up with a right amount of text. It will increase your chances to be ranked higher in search results. Thus, you will be easier to find on the internet.
How to create a photography website?
Making a beautiful and functional website is not as difficult as one may think. If you are better at photography than programming, the fastest and easiest way for you to get the job done is by using a website builder for photographers - the one like Ning.
Ning is an online platform that provides users with all the tools required to create a photography website, online portfolio for photographers or online portfolio for models.
Ning features an optimized usability and flexibility that makes website building simple, enjoyable, and rewarding. Developed as an affordable solution that eliminates the need of hiring a professional web designer, this photo gallery website builder will let you achieve two important goals: establish your online presence and grow a community of followers who would make for the best proof of your skills and professionalism.
But how to create a photography portfolio that will catch the eye of a potential employer, increase your popularity, and raise revenues? Ning offers several simple solutions.
Everything you need to create a photo gallery website
Designing and building personalized photography web pages, there are few things that might come in handy. The Ning platform offers a multitude of tools and features to help you achieve great results and make an impressive digital portfolio:
Simple interface
The Ning website builder is designed specifically for users who have no experience in web development. That's why its interface and the whole process flow can be mastered literally by anyone with ease. Just select the features you'd like to use and fill the site with content.
Convenient customization
Visual design is hugely important for a photography portfolio as it makes the first impression on your customers. The appearance of your Ning website is totally up to you. Pick one of the free photography website templates available in our extensive library and set up a basic theme for your online portfolio. You can then modify it using a simple customization tool named Design Studio. With its help, you can easily personalize almost every visual aspect of your site.
Photo, video, and audio sharing
Needless to say, a photo gallery is the centerpiece of your portfolio website. Ning allows you to upload images in different formats and sizes so you're not restricted by any imposed limitations. Besides, you can add video and audio materials to complement your portfolio.
Thanks to the embedded social widgets, your posts can be easily shared and liked on popular social media networks. You can also keep your network members updated on your latest posts through an RSS feed and email newsletters.
Visitors to your website (or members only) can leave comments to every single photo, so you will always know what people think about your art and skills. Ning also provides a great way to improve your SEO. You can write titles, descriptions, and tags to every photo you upload. Thus, your online visibility will be increased.
Advanced blogging
To take your photo gallery website even further, create a photography blog. With Ning, it is easier than you could ever imagine. Regular blog posts will increase your professional authority, bring more traffic to your site, boost SEO, and help you build a strong online community. Write about your projects, photography techniques, aesthetic values, gear - anything that might be of use for your target audience.
Various communication options
Ning allows you to create something more than just a photography website, rather a comprehensive online community. All thanks to the variety of communication options, including:
Chat;
Private and group messaging;
Email automation;
Forums;
Comments;
Polls.
Monetization tools
Whether you want to sell photographies or make money on other content you create, monetizing your network can be achieved through Paid Access, Paid Membership, and Donations.
The best website builder for photographers
Except for the features mentioned above, Ning is also known for the abundance of other benefits that make it so special, including free domain name and hosting, advanced community management, seamless integration with social media and 3rd party services, reasonable pricing, free trial, etc. Read more about Ning's features here.
If photography is more than just a temporary hobby for you, creating a personal photo website will take your passion to a whole new level. It's time to make your photography website together with Ning!